Main events of first April week in the United League.
Zenit win regular season for the first time in franchise history
The game between Zenit and CSKA in Saint Petersburg was considered one of the key games of this regular season, first place and play-offs home court advantage were at stake.
The game of the week met the expectations, impressive runs and comebacks, spectacular dunks and players' performances that decided the game.
The game started with Zenit's 14-point run led by ex-CSKA player Vitaly Fridzon: 6 points and assists to Tarik Black. Johannes Voigtmann, March MVP in the League, helped his team cut the gap hitting 3 from 4 long range shots. CSKA started getting back to the game, but Denis Zakharov didn't let them. Zenit's guard was Xavi Pascual's ace in the hole scoring 10 points in a quarter. Will Thomas finished the quarter spectacularly:
It is interesting that after the half time the heroes weren't the same. One of them, Billy Baron, this season first month MVP. Zenit's sharp shooter proved himself and it seemed like he gave his team the win via 3 threes in the third quarter:
Zenit believed in the success to early, meanwhile CSKA almost made a miracle: from -18 they came back to -1 in 7 minutes. However, Petersburg found another hero: Kevin Pangos who was silent almost all game long scored 7 points in a row. CSKA had nothing to answer it with.
Anyway, Will Thomas became Zenit's most valuable player. He scored 18 points, 8 rebounds and 3 steals with 21 efficiency points.
After the victory over CSKA Zenit won the regular season with 3 weeks left in it. For the first time in franchise history Petersburg achieved it.
For the first time since 2014 CSKA approach the play-offs without highest seed. Moreover, UNICS outpaced CSKA losing second spot, in case of loss to Loko they even can fall down to 4th place.
Nizhny clinch play-offs
No one doubted Nizhny, who moved Zielona Gora from the 5th spot, would get into Top-8. They officially clinched it after winning in Saratov.
The game itself was pretty interesting. Avtodor never led in 40 minutes of the game, but weren't falling back and came back regularly to 6-8 point difference as far as Nizhny tried to gain significant lead.
As a result Saratov were close to important victory: they were behind by 2 points on last minutes, thus only Ivan Strebkov's shot let Nizhny keep the lead.
Strebkov spent one of the best season games: 22 points on 4/6 three-point shooting. Nizhny another hero was Anton Astapkovich, who scored 19 points, 8 rebounds and 5 assists. Nizhny set team's season-high in threes hitting 16 of them.
Astana win 3 quarters, Loko win the game
After losing in EuroCup play-offs Loko fully focused on the United League. Krasnodar are 4th, but after CSKA's defeat in Saint Petersburg may outpace them in standings and even take 2nd place as a result.
On Saturday Loko hardly stopped Astana at home. Kazakhstan were leading after 2 first quarters and had 11-point lead during the game. They hadn't enough energy for the full game: right after the half break Kuban were up ahead via 12-0 run. Astana didn't give up till the end and even won the fourth quarter, but as head coach Emil Rajkovikj said, "the team lacked energy, Loko won by the experience".
Apart from experience Loko had 2 more reasons to win: Will Cummings and Nigel Williams-Goss. American guards' duo led Kuban's offense scoring 47 points and 15 assists combined, and taking the W, the 6th in a row.
PARMA settle in the play-off zone
After unsuccessful March with 3 consecutive defeats Perm came back to play-off zone, and due to 2 victories over Astana and Tsmoki-Minsk can take a full breath. 9th Avtodor (8-13) are behind PARMA by 1 win, Ural also have one more game.
On Sunday, PARMA beat Tsmoki. As it was expected, Kazys Maksvytis won via defense as Minsk show the worst offense in the League this season (71,2 points per game).
The game in Perm wasn't an exception: PARMA allowed only 27 points by the half-time, as a result Tsmoki managed to score only 65 points, worse than they average. Perm allowed the same number of points in the previous game against the Dragons in Minsk (78:65).
PARMA try to get into their first play-offs. The team have 4 more games in the regular season, but the crucial game will be on April 17 against Avtodor, their straight rivals for the 8th place.
The situation is complicated by PARMA making FIBA-Europe Cup Final Four. To participate in the decisive tournament's part in Tel Aviv on April 23-25 Ural have to spent 4 VTB League games in 9 days and try to take as many wins as they can. Their rivals are Nizhny, Zenit, straight rivals Avtodor and UNICS.
Team of the week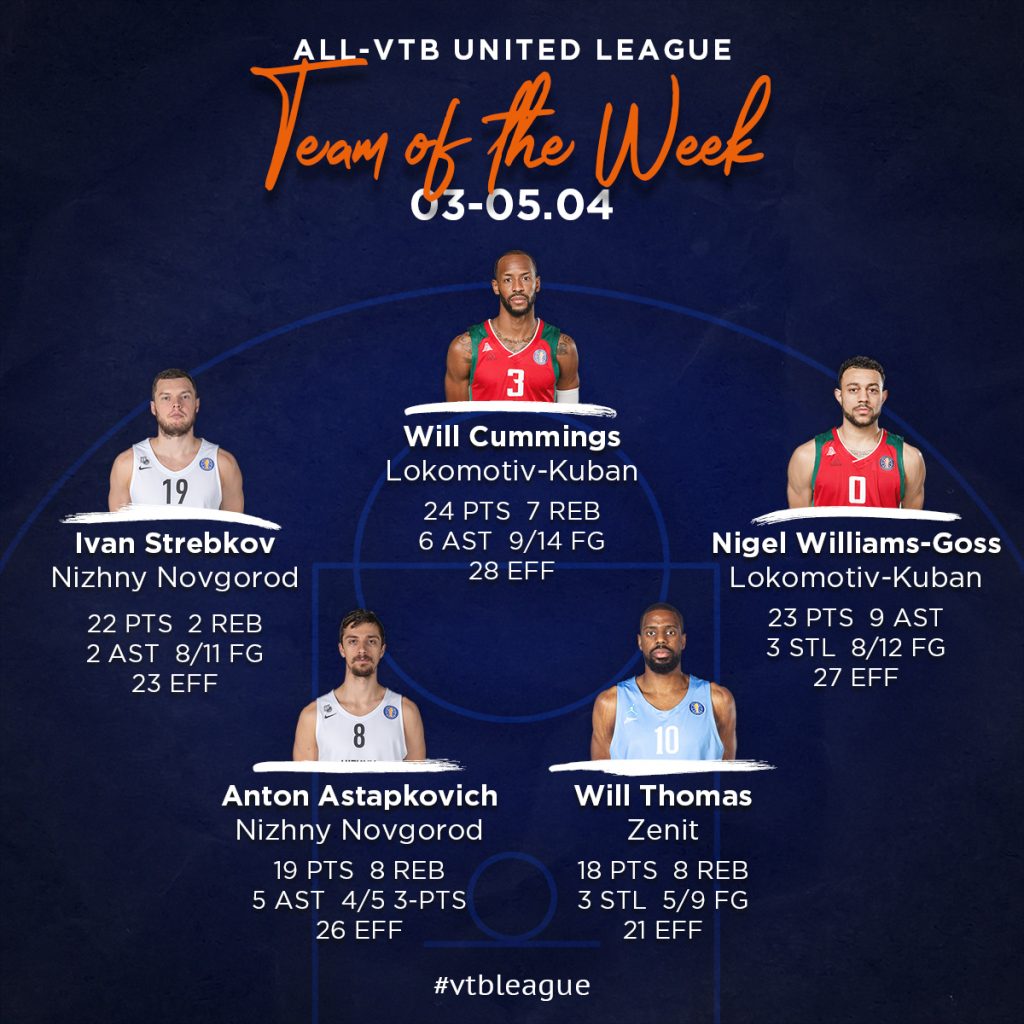 Standings