Valerii Likhodey is the United League veteran – PARMA-PARIMATCH became his 5th team in 8 years in the League. The forward made his debut for the Perm team in a game with Zenit and helped PARMA to start the year with the win, scoring 3 points and making 2 rebounds.
In an interview after the game, Likhodey spoke about his experience abroad and returning to the League, noted the support of fans in Perm and gave advice to young players.
– You had a successful debut – the win over Zenit in the first game after returning to the League. What do you think about this game?
– In general, I really liked everything. It's a great thrill to get back to a good level and play with such strong opponents. It brings a lot of pleasure to the players. Thanks a lot to the guys, I've been here for 3-4 days and have already become the part of the team. They are always ready to help me understand the tactical and game moments. I want to believe that I will help more in the future.
– Have any of the players already managed to show you Perm?
– It was the New Year, they showed a little bit (laughs). I hope there will be time to visit cultural places, there are already plans to go to the old center, walk along the quay. But all walks are just not in -30 – I heard how cold it is here.
– In the United League, there are quite high speeds on the court. Have you been able to get used to it already?
In the Super League, where I started the season, the pace of the game is a little different, so it was a little heavy. In the first half everything was fine, and in the second my legs were already hooked. But it's a matter of time, I'll try to adapt to this pace in training.
– Before PARMA, you played in 4 different United League teams. Which one do you have the warmest memories with?
– I think it's Lokomotiv-Kuban. We won the EuroCup, played in the Euroleague, and I played a significant role in the team – I scored a lot, there was a good three-pointers percentage. I was very happy to take part in all this. I hope that PARMA will surprise me – the fans are already writing on Instagram. When you are supported in the stands and off the floor, it's really cool. When everyone supports each other, the results improve.
– In Ural-Great days, the players were known by sight and they were stars. Have you already experienced it for yourself?
– I've only been in Perm for 4 days, and it's so cold – you won't meet me on the streets right now (laughs). But there is already one case: I rented an apartment in the city, I haven't had time to move in yet – and its owner has already written to me and congratulated me on the win. Although I didn't even say who I was.
– We pointed out Ural-Great – have you followed this team?
– Of course. It's a pity that it's gone. This is the only team that has become a champion other than CSKA. We hope that everything will recover, because Perm deserves a top team. We will try to match. There is still time to show yourself. Now we are in the playoff zone and we plan to stay in it until the end of the regular season.
– You can tell us about your experience abroad. For example, about Anwil?
– To be honest, the Polish Championship is not the VTB League level. But there are a lot of equal teams there. It is unknown what to expect every year. All teams can shoot and show what they got. It all depends on the team chemistry. A team with a small budget can take a high place, and teams with a top budget can collapse. I was very lucky: when I first came to Anwil, we won the Polish championship. The fans were crazy there, they carried us on their hands. Incredible emotions, it was possible to go crazy. We won – well done, we lost – we are with you. This is very cool, and due to such support after failures, you always want to improve. Full stands forced me to run and give my best more.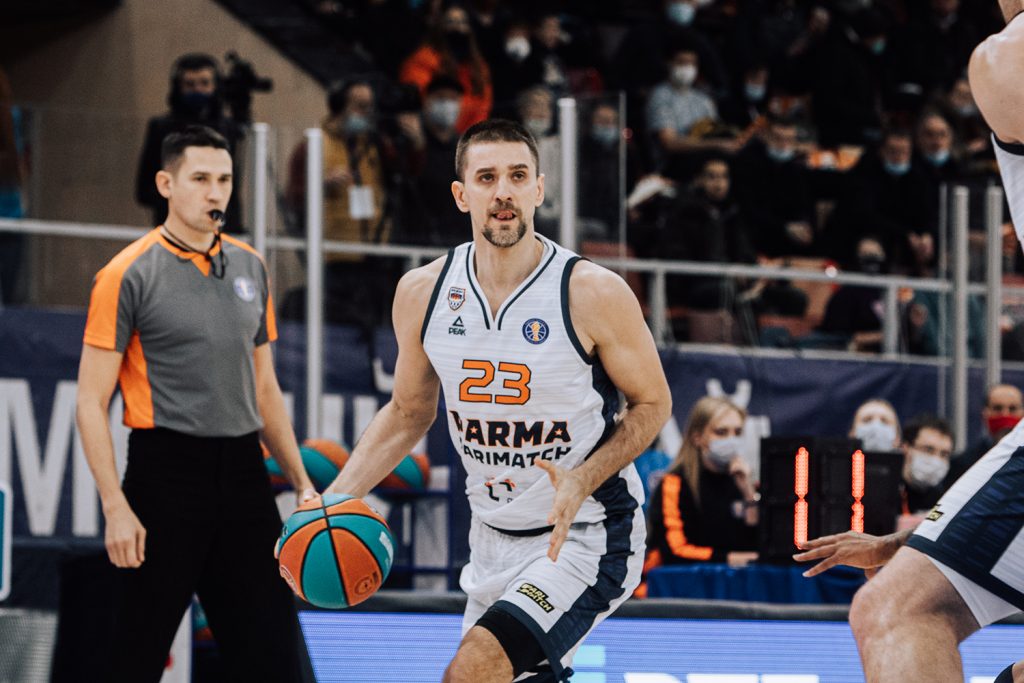 – We can say that this gives an additional motivation.
– Of course! It was the same today at the Molot: the stands were supported, and we simply could not take a step back.
– Do you remember the games with Zielona Gora?
– Yes, but I won't say that these were special games. In different games, something was remembered. There were wins, there were losses. It was always interesting, but I can't remember anything special from the confrontation with Gora.
– Based on foreign experience, should young Russian players go to to play in foreign championships?
– It all depends on the players, their level and prospects. If the team gives him playing time, then maybe there is no point. And if a player is sitting on the bench, it's better to try yourself abroad. There will be more game experience, there will be self-confidence, confidence in shooting and passing. Everything comes from confidence. The player has the opportunity to pass and shoot, but he does not do it because of a lack of confidence. And there it can be achieved. In the same Polish League, the level is lower, but because of the motivation, the teams are so even that everyone can beat everyone. It's very toughening.
– What do you think about the legionnaires limit? Will its cancellation benefit?
– Judging by the trend, I would not want it to be like this.
– Because young players need to develop?
– Yes, if our players don't develop and show themselves, then who will play for the national team and who will we support? You live in Perm, Moscow or Krasnodar, you come to the game and it becomes pleasant when a person from your city plays and scores. And tomorrow you can meet him with his family in the park. It's nice when your fellow-townsman get into the national team, which achieves something. I want to see more young players so that there is a prospect.
– Do you still think about playing in the national team?
– (Laughs)…They probably won't take it. If only as a coach.
– In the game against Zenit, you looked decent, considering that this is the first game in the League after returning.
– Let the young ones show what they got in the national team, they have their whole career ahead of them. Moreover, there are vets there who can follow the young players. Therefore, I will rest in the summer. But if, of course, they want to, then I will come.
Welcome back to the League, Valerii Likhodey 🙂 pic.twitter.com/890vhH1oU9

— VTB League (@VTBUL) January 4, 2022
– Can we say that in Perm you will have something like The Last Dance?
– No. I'm still planning to dust off while I'm playing well. When it will stop working, we'll see. I will be objective as long as it turns out well, and why not. I feel great.