Russian National team guard Mikhail Kulagin has reloaded his career in Enisey this season. He averages 21,3 points per game for Krasnoyarsk, this is top-3 among all League's players.
In the interview Mikhail Kulagin told us about his attitude to esport, gave a piece of advice for young players, named his favourite NBA players, recalled the most memorable moments in CSKA and touched upon the cars topic.
– You are the third best scorer in the VTB League now and one of the main revelations of the season. What do you think about the start of the season and your first two months in Enisey?
– To be honest, I feel complicated emotions because all our team got over coronavirus and we haven't played a single game with full roster yet. Somebody gets sick, some get injured. It disappoints me, of course. However, in general I like that even in such situation we work hard and fight. We will continue it to get to the play-offs this season!
– It has been 4 years since you and Anton Astapkovich were dominating together in the VTB League junior for CSKA. Is your transfer to Enisey a turning point?
– Yes, to tell the truth, my and Anton's role in the team changed after the trade. We hadn't so many minutes on the court and coach's trust in CSKA, now we are growing as players.
– Are you still in touch with Anton? In a month you will meet in the United League game.
– Yes, occasionally we have conversations. I hope our nearest meeting will take place in Russian National team, before the Nizhny Novgorod vs Enisey game there will be a window in the schedule and Eurobasket qualification games will take place.
– This off-season was the longest in your career. Tell us, how have you prepared for the new season.
– When in the end of the last season the quarantine started it wasn't clear if the championship is resumed, thus I continued to train, I was preparing for a long time to get back to the court. When it was officially announced that the VTB United League and Euroleague seasons are over I took a short break and then continued personal practices.
– When have you realised that you are leaving CSKA? How quick was the call to move to Enisey made?
– When the season was over I had a little break to think over my further career. After that and speaking with Andrei Vatutin, Natalia Furaeva and Dimitris Itoudis I decided that it's time for the new step in my career, for trying to achieve more. I'm extremely grateful to CSKA for all the years. It was invaluable experience, it was the time that I'll never forget.
– Apart from Enisey have you had other variants of the career continuation? 
– Yes, I had, including offers from not famous European top teams, but I chose Enisey as I thought it was the best option for me.
– Are your roles in Enisey and National team comparable?
– I think no, game on the club level and National team level are different things.
– Okay, if we are speaking about coaches, who gives more freedom on the court Drazen Anzulovich or Sergei Bazarevich?
– ОThey are different coaches, both are great in their own ways. I've never liked to compare, I won't do it to my National team and club coaches neither.
– Andrei Kirilenko, the President of the Russian Basketball Federation, believes that the Russian National team with optimal roster is among the four strongest in Europe. Do you agree with him?
– Yeah, I totally agree on that, when all the players are together and everyone is healthy. And I think we showed it at Eurobasket.
– Your brother Dmitry Kulagin has entered the extended Russian team roster for the upcoming games, he is still without a team. Do you feel like you're the number one basketball player in your family?
– Because I have a contract and a team, and my parents don't play basketball neither, I mean, at the moment, of course, I feel that way. But I'm actually really looking forward to my brother going back on court and playing.
– You play not only efficiently, but also effectively. Did Dimitris Itoudis like this style of play in CSKA? Some coaches may send a player to the bench for a streak of misses.
– If some action on the court is effective and it is done effectively, then no coach will ever put you on the bench for it, as it brings results and benefits to the team, as well as a lot of joy to the fans. The main thing is that efficiency and effectiveness are must be combined with each other.
– Just like this – efficiently and effectively, that's the way you played in the Euroleague Final Four game against Zalgiris two years ago! 
– Of course, these are very pleasant memories, even though the game was for 3rd place and we lost it. We were emotionally devastated after the defeat in the semifinals, but for me that game with Zalgiris was an opportunity to prove myself. Then I just went out to play basketball and tried to help my team. Unfortunately, although the game turned out to be quite good for me, I still didn't make a three-pointer to win.
– During 5 years with CSKA, there must have been many pleasant memories. What was your most memorable moment?
– Of course, these are all the titles won – 4 victories in the VTB United League and two victories in the Euroleague. These are the most memorable and valuable memories. I think that few Russian basketball players can boast of such achievements.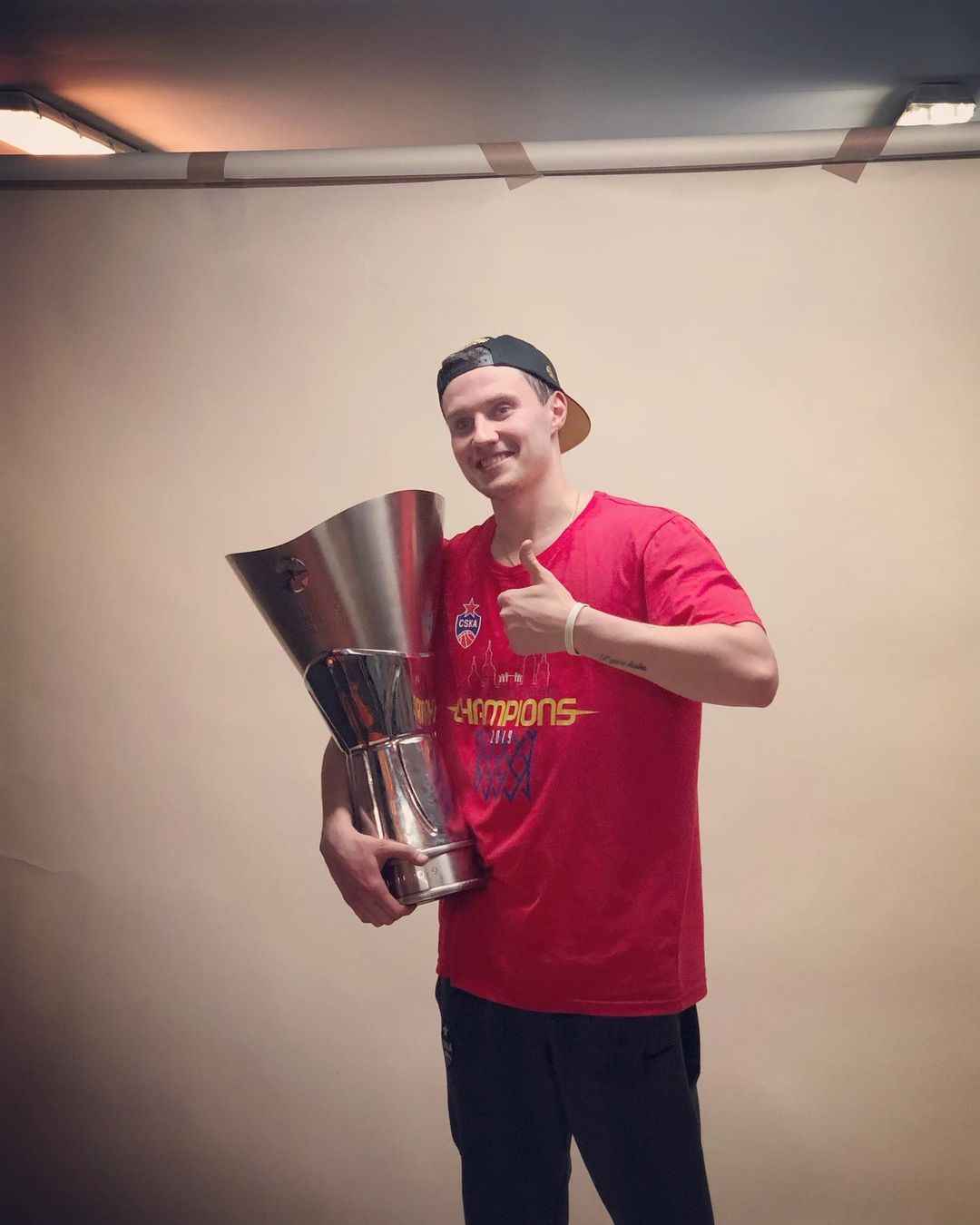 – Your agent openly stated that you are leaving CSKA in order to return there later. Can we say that the move to Enisey is an attempt to prove to CSKA that you are one of the best players in the VTB League today?
– I never close any doors for myself. But at the moment I am a Enisey player and will try to help the team achieve all the desired results. This is my primary task.
– Last night, another NBA draft took place, at which Russian players were not represented – Nikita Mikhailovskii withdrew the candidacy shortly before the ceremony. What do you think is the reason for their absence from the NBA draft for several years?
– This is an interesting question, but at the same time very difficult. Perhaps the reason is that at a young age, American players surpass ours at least in physical conditions. In the United States, special attention is paid to this. Keep in mind that American basketball players are also always in sight – they play in high schools and colleges, and our young people don't get a lot of playing time in professional basketball, so they are less remarkable.
– Which of the young players in the VTB United League can you note today besides Nikita Mikhailovskii?
– I think that another striking example is Grigoriy Motovilov, who made his way to the National team for the World Cup, and then moved to Lokomotiv-Kuban. He progresses every season. Of course, I would like to see more young players in the VTB United League who would receive enough playing time to develop and get better.
– Some of them are probably playing in the VTB League junior now. What advice can you give them?
– The most important thing is to never give up, to continue working even if something does not work out. It doesn't matter if they give you playing time or not – you always have to work hard and get better, your chance will definitely come.
– Back to the NBA. Did you have the opportunity to try yourself in America? Perhaps you were invited to the Summer League or offered a non-guaranteed contract.
– In my memory, I wasn't. Perhaps there were some conversations, but it never went beyond conversations.
– You probably have favorite NBA players. Can you name them?
– I can't single out one, because from the old school it's Allen Iverson and Kobe Bryant, I was a fan of them as a child. Today I would like to mention James Harden, Steph Curry and Kyrie Irving. These are phenomenal basketball players who show an incredible level.
– Do you take any moves from them?
– Yes, I closely follow them, so there is something in my game from them. Sometimes I try to test their actions in training, if these moves work out, then I use them in the game.
– Did you take Steph Curry's number too?
– Not really. I didn't take number 30 because Curry has it, it just happened.
– Today, anyone can feel like Stephen Curry, playing the console. How do you feel about the fact that esports is developing so rapidly?
– To be honest, it's great. The development of esports is very interesting to follow. As for me, I used to love playing on PlayStation – the NBA, the NHL, but at some point, it came after a two-month quarantine, when in addition to training and games on the console there was almost nothing else to do, I was a little fed up with the console. So now I have a pause in my esports career.
– You have also always been a fan of cars, but over the past couple of years you have practically no Instagram posts with them. Has your interest gone?
– No, the interest is still very high, I am now looking at various reviews of cars of different classes. It's just that I'm not advertising it this way now, but I still have a love for cars.
– CSKA fans have always determined by the yellow Chevrolet Camaro whether you are in USK CSKA or not. Has your notable car moved to Krasnoyarsk with you?
– I have several cars, and my Chevrolet Camaro is not very suitable for the weather in Krasnoyarsk, so now I am driving an SUV, which I brought from Moscow to Krasnoyarsk.
– Which of these cars is your favorite?
– I like many different cars, but I will still single out the Chevrolet Camaro. It was a dream since childhood, as soon as the opportunity arose, I immediately bought it. I still get incredible pleasure when I get behind the wheel. Although there will certainly be people who will say that the car is not easy to drive, but it suits me perfectly.
– How do you like Krasnoyarsk after Moscow?
– I have been to Krasnoyarsk many times when I played for CSKA. I didn't have time to see the city, but now, two months later, I can say that I like the city and everything suits me.
– The best city in the world?
– I was born in Moscow, lived all my life in Moscow, for me Moscow will forever remain the best and most beloved city in the world.