In a regular season game Zenit host CSKA.
Where:
Russia, Saint Petersburg, Yubileyny Sports Palace (capacity 6300 spectators)
When:
April 5, 2021, 20:00 (20:00 МSК)
Broadcasts:
Match! Strana, VTB United League web-site
Frame from the past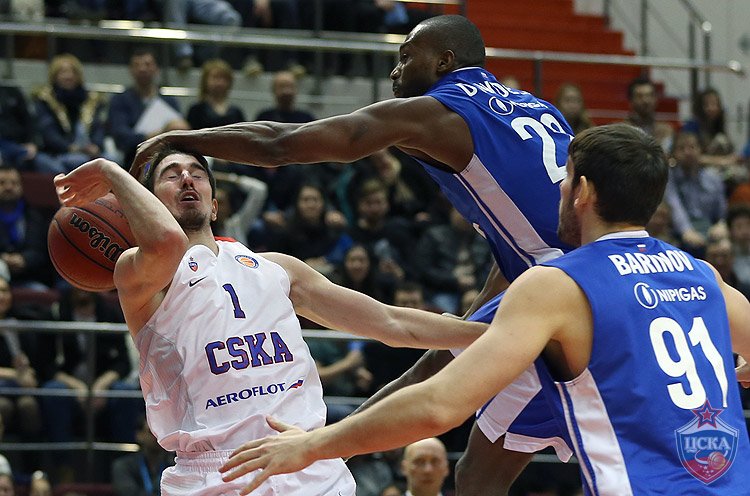 Season 2015/16: Zenit's guard Zabian Dowdell blocks CSKA leader Nando de Colo
Face to face:
Zenit vs CSKA! Their rivalry becomes more popular each year. In the United League since 2014 the team have met 17 times, 12 of them were won by CSKA.
In 2018/19 season CSKA surpassed Petersburg in League's semi-finals. Sweep doesn't show the situation: Zenit were fighting hard: 98:82, 83:81, 69:68. It was the day when Zenit attracted Euroleague's attention, earned wild card and now fight in Europe.
In the first round game on October 7 Zenit beat CSKA in Moscow for the first time – 82:79. The Red-Blues took revenge in Saint Petersburg (82:63) and then beat them twice in Euroleague (87:70, 86:78).
This season Zenit and CSKA met 3 times. In the League Petersburg on February 13 Zenit won 74:71 at USH CSKA. In Euroleague Dimitris Itoudis' team continue to dominate. On December 18 CSKA won confidently 83:65, March 30 – 86:74.
Last week 
Zenit and CSKA spent double week in Euroleague. On March 30 the teams played against each other. Away victory 86:74 allowed CSKA clinch tournament's play-offs and complicated Petersburg chances, they still want to get into play-offs.
On Friday CSKA outclassed another Russian team, Khimki (97:72). Zenit made key step for gettin into top-8 in the game against Villeurbanne (87:53).
Intrigue
Zenit (18-3) and CSKA (15-5) will spent second personal meet in 7 days. The teams are 1st and 2nd in standings, thus this game will decide the regular season championship and home court advantage in possible final. In case of CSKA's win they'll have to wait for opponents' mistakes in one of two away games against PARMA and Nizhny Novgorod, of course, winning themselves (Astana, Lokomotiv-Kuban and Nizhny Novgorod). At the moment it's all up to Zenit, although nothing is impossible.
Home court advantage
CSKA showed recently that they can win easily in Saint Petersburg. But there is one crucial point. The game is to take place in Yubileinyi, cursed arena for the Army club, they managed to break the curse only in 2019 play-offs when they won with minimal differential (69:68) and clinched finals. In all regular season games Zenit was stronger at this Arena (90:77, 87:83, 93:86).
In 11 home games Zenit took 10 victories. However, CSKA play well on the road – 8-2.
Suspension
On March 27 CSKA spent another regular season key game against UNICS. On the first minutes team's best scorer Mike James went to locker room. In a few days the team announced that the American is suspended from games. CSKA president Andrei Vatutin said that James situation turned into irresolvable conflict. In the Euroleague game in Petersburg the team played without James, after the final buzzer head coach Dimitris Itoudis concluded:
"The roster you saw tonight and also injured player who stayed in Moscow, Joel Bolomboy and Nikola Milutinov is the roster which we finish the season with. It is my personal decision, I fight with the players and staff that are ready to fight for this team".
MVP
Much more pleasant thing for CSKA is Johannes Voigtmann who was named March most valuable player.
The German was averaging 14,0 points on 61,3% shooting, 8,0 rebounds, 2,8 assists and 1,5 steals with 22,0 efficiency points. CSKA won all of 4 games in March.
Stats
CSKA (35,4) and Zenit (37,1) are among season rebounding leaders, 4th and 2nd spots. Blocks are good as well for the teams. Moscow are 3rd averaging 3,4 per game, Peretsburg are next with 3,0.
In threes percentage the teams are the best: 39,8% and second place for Petersburg and 40,7& and leadership for the Army club. CSKA also lead in turnovers allowed: 11,9 – the fewest number in the League. Zenit are 6th with 14,2.
Familiar faces
This season CSKA and Zenit have only one player in common, Russian National team captain Vitaly Fridzon has played for CSKA since 2013 till 2018.
Duel
Tarik Black vs Johannes Voigtmann.
Perhaps, the better variant is Zenit's frontcourt vs Voigtmann. The point is when the German is on fire (recently, all the time) he becomes a threat from outside. In latest Euroleague game Voigtmann was stretching Petersburg defense, forcing defensive scheme changes, from Will Thomas to zone defense. March MVP hit 3 from 4 from down town becoming the top scorer (21 points) and the most efficient player (31 points) on CSKA roster. It is the repeat of Voigtmann's first round performance when he led in those indicators – 19 points and 29 efficiency points.
To hold Voigtmann is one of Xavi Pascual's staff most important tasks.